Sports Massage at Pilates Fitness!
Emanuela IIHHT FHT MICHT MHFST is a fully qualified therapist offering:
· Sports massage
· Reflexology
· Aromatherapy
· Reiki
· Indian Head Massage
· Clothed Massage
· Rossiter System "workouts"

Read below to find out more about massage, indian head massage and sports massage.
To book a treatment or find out more, contact me.
For Pilates instruction, please see Pilates page
One of the best-known benefits of massage therapy is its ability to enhance feelings of well-being. Massage produces chemical changes in the brain that result in a feeling of relaxation and calm. In particular, massage reduces levels of stress hormones. Massage therapy lowers levels of stress hormone cortisol by an average of 30 percent. Massage also increases serotonin and dopamine, neurotransmitters that help reduce depression.
Massage is one of the most natural ways to de-stress: it is recorded as one of the earliest forms of physical therapy and it is known that it was used by very different cultures over 3000 years ago.
The main purpose of massage is to help alleviate stress and tension that can build up in the body's soft tissues (muscles, tendons and ligaments).
Massage can have a positive effect on some medical conditions such as muscular discomfort, headaches, insomnia and digestive disorders. It is common for regular massage to produce increased energy levels, improvement in flexibility of muscles and joints and an overall feeling of being more alert yet calm.

Indian Head Massage on a kneeling chair.
Copyright:PilatesFitness 2007

Physical Benefits of Therapeutic Massage

Helps relieve stress and aids relaxation

Helps relieve muscle tension and stiffness

Alleviates discomfort during pregnancy

Fosters faster healing of strained muscles and sprained ligaments

Reduces pain and swelling

Reduces formation of excessive scar tissue

Reduces muscle spasms

Provides greater joint flexibility and range of motion

Enhances athletic performance

Treats injuries caused during sport or work

Reduce/manage persistent back pain

Reduce the cost of back care after initial course of therapy

Promotes deeper and easier breathing

Improves circulation of blood and movement of lymph fluids

Reduces blood pressure

Helps relieve tension-related headaches and effects of eye-strain

Enhances the health and nourishment of skin

Improves posture

Strengthens the immune system

Treats musculoskeletal problems

Rehabilitation post operative

Rehabilitation after injury
(Source: AMTA)
Mental Benefits of Massage Therapy

Fosters peace of mind

Promotes a relaxed state of mental alertness

Helps relieve mental stress

Improves ability to monitor stress signals and respond appropriately

Enhances capacity for calm thinking and creativity

Emotional Benefits

Satisfies needs for caring nurturing touch

Fosters a feeling of well-being

Reduces levels of anxiety

Creates body awareness

Increases awareness of mind-body connection
(Source: AMTA)
Indian Head Massage includes massage of the shoulders, upper arms, neck, scalp, face, ears and energy balancing. It is based on the traditional form of head massage practised in India for over 1,000 years.

Image courtesy of BBC Wales
Indian Head massage is a wonderfully relaxing therapy. The massage is safe, simple and very effective, without the need to undress or use oils. It can provide relief from aches and pains, stress symptoms, insomnia, promote hair growth, soothe, comfort and rebalance your energy flow which gives you a deep sense of peace, calm and tranquillity.
Sports Massage is a special form of massage that is typically used before, during, and after athletic events. The aim of sports massage is to prepare the athlete for peak performance, drain away fatigue, reduce muscle tension, promote flexibility, relieve swelling and prevent injuries.
Sports massage can help prevent those niggling injuries that so often get in the way of performance and achievement, whether a person is an elite athlete or an amateur jogger.

Sports Massage at Cancer Research UK Race For Life, Leicester, 10th July 2005.
Don't worry, our sports massage sessions are usually indoors!

Benefits of Sports Massage
Sports massage uses specific massage techniques to promote efficient healing of injuries caused by sporting or other activities to the body's soft tissue. It is generally used in the maintenance of fitness, both pre and post event massage.The therapist will choose massage techniques according to the tissue damage present. (source: FHT website)
Massage, applied skilfully, is the most effective therapy for releasing muscle tension and restoring balance to the musculo-skeletal system. Received regularly, it may help athletes prevent injuries, which might otherwise be caused by overuse. A constant build-up of tension in the muscles from regular activity may lead to stresses on joints, ligaments, tendons, as well as the muscles themselves.
These muscle imbalances may develop and often go undiagnosed until they are serious enough to cause the athlete discomfort or impede performance. The skilled massage therapist will be able to detect variations in the soft tissues and by using the correct techniques, help the sports person maintain a much healthier physical state.
It may therefore be reasonably claimed that one of the greatest benefits of sports massage is in helping prevent injury.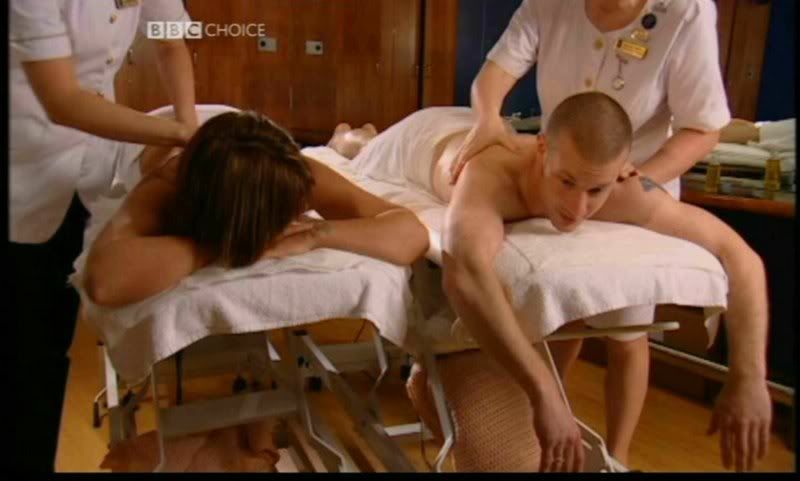 Celebrities enjoying a massage: Davina & Dermot
Image courtesy of Dermot O'Leary website, BBC Choice and photobucket
Contraindications for Sports Massage
There are times when sports massage could be detrimental rather than beneficial to you. If you currently have any of the following conditions, you should not have a sports massage. The contra indications to massage are:

A body temperature over 100°F, or feeling unwell.

Acute Traumas - Open wounds, recent bruising, muscle tears, sprained ligaments, contusions, chilblains, burns.

Tumours - Where there is swelling, which is inconsistent with recent bruising.

Diseased blood vessels - Varicose veins, phlebitis, thrombosis

Cancer

Melanoma

Haemophilia

Infectious skin disease - Bacterial infection, Fungal infection, Viral infections, Herpes

Where you react adversely to massage treatment

Where your symptoms appear to make advice from a doctor advisable

Diabetes - not strictly a contraindication but massage has the same effect as exercise on your blood sugar levels so you need to have appropriate medication available
Procedure
If you don't have contraindications, you will be able to have a sports or indian head massage.
During the first session, a consultation takes place. The practitioner will record the client's relevant health and fitness details and the environment in which they live and work. A physical assessment is then carried out in order to observe postural alignment. This indicates to the practitioner which muscles require treatment.
In many cases, a course of 4 Sports Massage treatments can be recommended for the prevention and rapid recovery of injuries. Alternatively, sports massage can also be used as a relaxing and deeper form of massage. It is a treatment tailored to the individual's requirements and you don't have to be a top athlete to enjoy the benefits of a well-tuned body!
Side Effects
A "healing crisis" may sometimes follow a treatment, particularly the first treatment ever or the first treatment in a long time. This might entail a headache or a temporary feeling of tiredness, perhaps that same evening or the next day, which is generally followed by increased energy and a feeling of well-being, typically the day after.
One research study found that only 10% of people experienced some discomfort after a massage session, while as many as 23% experience some unexpected POSITIVE side-effect. In this study, the majority of negative symptoms started less than 12 hours after the massage and lasted for 36 hours or less. The majority of positive benefits began immediately after massage and lasted more than 48 hours. No major side-effects occurred during this study.
As stated earlier, most people do not experience any negative side-effects and more people experience unexpected POSITIVE side-effects than negative ones.
Research
Cambron et al (2007), Side-Effects of Massage Therapy: A Cross-Sectional Study of 100 Clients, Jerrilyn A. Cambron, Jennifer Dexheimer, Patricia Coe, Randy Swenson. The Journal of Alternative and Complementary Medicine. October 2007, 13(8): 793-796. doi:10.1089/acm.2006.6401.
Cherkin (2003), A Review of the Evidence for the Effectiveness, Safety, and Cost of Acupuncture, Massage Therapy, and Spinal Manipulation for Back Pain, Daniel C. Cherkin, Karen J. Sherman, Richard A. Deyo, Paul G. Shekelle, Ann Intern Med June 3, 2003, vol. 138 no. 11 898-906
Ernst E (1999), Massage therapy for low back pain: a systematic review. J Pain Symptom Manage 1999;17:65-9.
Furlan A, Brosseau M, Imamura M, Ivin E. (2002), Massage for low-back pain. Cochrane Database Syst Rev 2002;(2):CD001929.
Hyman Rapaport et al (2009), A Preliminary Study of the Effects of a Single Session of Swedish Massage on Hypothalamic–Pituitary–Adrenal and Immune Function in Normal Individuals, Mark Hyman Rapaport, Pamela Schettler, Catherine Bresee. The Journal of Alternative and Complementary Medicine, ahead of print. doi:10.1089/acm.2009.0634.

Kaye et al (2007) The Effect of Deep-Tissue Massage Therapy on Blood Pressure and Heart Rate, Alan David Kaye, Aaron J. Kaye, Jan Swinford, Amir Baluch, Brad A. Bawcom, Thomas J. Lambert, Jason M. Hoover. The Journal of Alternative and Complementary Medicine. March 2008, 14(2): 125-128. doi:10.1089/acm.2007.0665.
Preyde M. (2000), Effectiveness of Massage Therapy for Subacute Low-Back Pain: a Randomized Controlled Trial by Michele Preyde, Canadian Medical Association Journal (CMAJ) 2000.

Russell et al. (2008), Role of Massage Therapy in Cancer Care, Nancy C. Russell, Sat-Siri Sumler, Curtiss M. Beinhorn, Moshe A. Frenkel. The Journal of Alternative and Complementary Medicine. March 2008, 14(2): 209-214. doi:10.1089/acm.2007.7176.

Useful Links


Federation of Holistic Therapists
Indian Head Massage - origins and benefits today
Indian Head Massage - basic facts
Indian Head Massage - BBC Wales
Combat Hair Loss with Indian Head Massage
Indian Head massage on Health24
Five Reasons to Get a Massage Today
Sports Massage
Health Benefits of Massage Therapy
About Sports Massage - Bob Jones's site
Massage Therapy - Benefits of Massage
Discover the Therapeutic Benefits of Massage
Sports Massage
A single massage can boost the immune system - Chicago Tribune